Welcome To The Bailies of Bennachie
We care about Bennachie, its natural environment, history and culture - protecting this unique landscape for future generations.
The Bailies of Bennachie is a voluntary conservation society whose objectives are to encourage and stimulate the public's interest of Bennachie.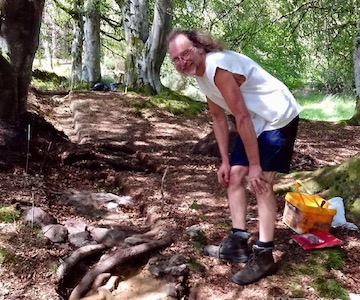 August 2019
Open Day at Dig on Monday 19 August 2019
There will be guided tours of an area on the lower slopes of Bennachie where an archaeological dig is taking place this summer on Monday 19th August at 11.30 and 14.30.
A map and instructions to find the site will be posted at the Rowantree Car Park and at the Bennachie Centre. Visitors should allow up to forty five minutes to reach the dig. The work is being done in an area off the turnpike track that links the two car parks. The site is in the grounds of Pittodrie House Hotel and is taking place with the kind permission of Macdonald Hotels who own the estate.
Tours will be given by archaeologist Colin Shepherd a member of the Bennachie Landscapes group; a joint project of the Bailies of Bennachie and the University of Aberdeen.