Accessibility
Air Crew Memorial Cairn Walk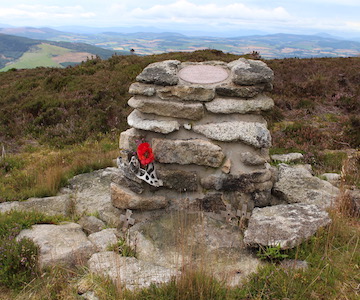 13:00 1 September 2019
On Sunday 1 September 2019 there will be a walk to the Air Crew Memorial Cairn will take place leaving at 13:00 from the Bennachie Visitors Centre.
Details
On Sunday 1st September 2019, a walk to the Air Crew Memorial Cairn will take place leaving at 1 pm from the Bennachie Visitors Centre. The route which follows the Gordon Way, past the English Quarry when the path climbs fairly steeply then crosses the Garbit Burn. A short stop on the path to look westwards towards Bruntwood Tap where the wreckage of the Westland Wallace biplane lies. Little remains but what does must be left undisturbed as a memorial to the two RAF airmen who were the first allied casualties of World War 11. They were killed on the 3rd of September 1939. We then will head towards Oxen Craig and walk through heather toward the Memorial Cairn. At the Cairn a short service will take place led by Rev Joshua Mikelson after which three crosses will be laid ,one for each airman killed. The second crash on the 12th February 1952, involved a Gloster Meteor Jet . The canon from the Meteor can be seen hanging in the Bennachie Visitors Centre. After the service the group will return to the Bennachie Visitors Centre by the same route. The walk which will be approx 6.5 miles and will take around 4 hours. Due to the terrain, appropriate clothing and foot ware should be worn .Please take insect repellant ,water and your own provisions for a picnic. Children under 14 must be accompanied by an adult. Dogs on leads are welcome. If, due to severe weather the walk is cancelled, an alert will be posted on the Bailies Facebook and web site.
For more events please see Events.